Sticking with your goals no matter what and working hard to achieve them. It's not necessarily about qualifications, it's about being tenacious and flexible with intelligence, talent, and knowledge.
An approach that delivers success, working together to exceed expectations.
What we offer our teachers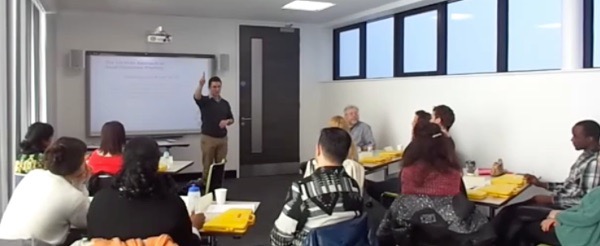 We Can Match the Right Role For You
Full Time or Part Time

Permanent of Contract

Curriculum or Instrumental

Classroom or Workshop
Are you a dedicated, enthusiastic, creative arts teacher able to teach within a school environment?
If so, then you could be who we are looking for to join our growing specialist team.
We will take time to understand you as a person, your personality and your teaching style to ensure that we match you with the right schools.
You will feel part of our team and be valued, supported and encouraged throughout your career.
What 1st Note Education Offers
91% success rate interview to hire.
92% recruitment retention over 2 years
Excellent pay rates
CPD
One to one coaching
Training and development opportunities.
Lesson plans and resources
Team Teaching
Safeguarding training.
Team building and networking events.
Personal ongoing support
£100 cash refer a friend or school bonus scheme.
We know that our success depends on our colleagues and support, so we want to hear from more people just like you!
We are always looking to build our team or talent and connect with new schools.  Help us deliver an aspirational and inspirational performing arts provision
If your referral leads to a successful contract,
we will thank you with £100 cash!
"We have been using 1st Note Education for a couple of years. During this time, they have supported us with both long term and day-to-day supply needs. We have been impressed with the professionalism of their teachers and how responsive their wider team is to our particular requests and requirements."
As a mum of 3 it is really difficult to discover your way back into work… only 1st Note Education gave me the chance. They make me feel capable, believe in me and that makes my work better. Always up to date with new information, I am happy to be part of this big family.
"1st Note Education have been especially helpful and supportive all the way in finding a specialist Music teacher for HPS. Approachable and professional they have listened to our needs and we now benefit from the services of an excellent tutor; choir, singing, percussion are now part of our performances across the whole school. On-going support and professional development for the school and the tutor contribute to good value for money​."
"This is the best course in education I have ever been on in London. Really interesting in all aspects about how to manage the class, planning etc. and makes us think about our skills and how to improve them."
It has been great working with 1st Note Education. The process for appointing a music teacher that was right for our school was thorough and well thought out and the follow up visits helped to ensure that the quality of music provision remained high.
"I have had a number of placements through 1st Note Education. Comprehensive lesson plans and materials were supplied and the management were very helpful and supportive. 1st Note had good relationships with the schools and frequent contact with me to ascertain that all was going well. I would recommend 1st Note Education as it is a friendly and helpful agency."
"1st Note Education have been providing us with their service of curriculum based Music lessons for nearly two years. They have always been very eager to improve on their professionalism and performance for our children by having observations which I, as the music co-ordinator, have been able to sit in on. 1st Note Education have always been very helpful and flexible to any needs we may have experienced and when we required a new member of their team to take the lessons, it was dealt with¬† very quickly without disruption to our regular music lessons. As a school we have been very happy with the service provided by 1st Note Education.​"
"I have worked in two schools for 1st Note Education. Lesson plans were easy to follow and relevant to National Curriculum guidelines. I was also given feedback on my teaching which was really helpful. Payment was always reliable and on time. I enjoyed the different schools and learnt a lot about the primary music curriculum."
"We are incredibly happy with Amy's lessons. Amy has ensured her lessons are safe for both her and our students. She is a fantastic teacher."
"I have used the 1st Note scheme for a year and I find it develops a child's creativity without losing sight of the fun aspect of music-making. Regular assessment and observation keep me up-to-date with teaching styles and methods. The company offers a two-way feedback process so that curriculum can be developed to best match the pupil's range of abilities. I have found working with 1st Note a very professional experience."
"We have been pleased with the start Andy has made. He has worked with my Deputy and I shaping our music curriculum and has been enthusiastic and proactive in moving our school forward. As a result, we have invested in a number, of glockenspiels and ukuleles and an after school club is putting these to good use."
"I am a piano and cello teacher and highly recommend 1st Note Education for their excellent'work in finding music teachers suitable jobs and vacancies in Primary schools. The Director is always very professional, friendly and easy to work with, and provides extra personal care to teachers, taking care to get to know each person's individual gifts and talents, therefore, sourcing the best possible schools and areas for successful teaching placements."
"'1st Note has a very professional attitude and listens to our needs. They found us the perfect music teacher for our school. 'I do count us lucky in having Dawn at our school. She is such a fantastic singer; she has adapted her music lessons very well. We are also fortunate that we have quite a good resource of instruments, which Dawn is making incredibly good use of. As a school we appreciate having a specialist music teacher as very few of our families have a music background. It offers children opportunities that may otherwise not get anywhere else, Dawn is doing a great job. So, thank you all."
"I have nothing but great things to say about this agency. The team are very supportive, passionate and determined to equip all their teachers to deliver outstanding music lessons. I am really happy to be a part of this team."